How to choose
garage doors
Detailed guide to choosing a LOMAX garage door
Continue
Introduction
How to choose a garage door that will reliably protect your home?
It doesn't matter whether your garage stands alone or is part of a family house – you'll always need a quality garage door. Everyone has different requirements and priorities – for some, only the price is important and nothing else. Another may need a really robust and secure door to protect their property. And for someone else, the most important thing is that the door can also be used as an entrance door.
In short, you need to consider a number of factors and choose a garage door that perfectly suits your nature. For maximum convenience, LOMAX has therefore prepared a user-friendly guide for choosing the right garage door for your home.
Types of garage doors
The LOMAX garage door range is divided according to design and opening mechanism into 4 basic types – sectional garage doors, sliding, rolling and double-leaf doors. You can also find folding doors and hanging doors at dealers and manufacturers of other brands.
Each type has its own advantages and disadvantages and may be suitable for a different type of garage. Just as the parameters of the space you want to close with the door can be decisive, your requirements – i.e. those of the garage door users – are also important. In order to help you find your way around the different types of garage doors, we have prepared a user-friendly specification.
Appearance of garage doors
Although the functionality of the door is very important, the appearance always makes the first impression. And because a quality door will last for decades, you should give the choice of its decor due thought and consideration. As a result, the door influences the overall impression of the garage and the house or garden.
Quality of garage doors
Before buying a garage door, you should choose a manufacturer that meets standards, is proven on the market and reviews of its products can be found.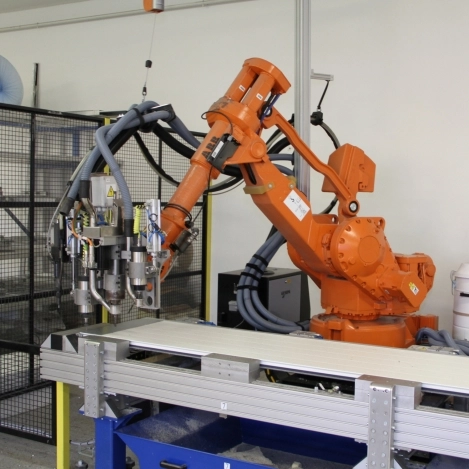 QUALITY MATERIALS MAKE QUALITY DOORS
Many garage door defects are caused by poor quality materials. Garage doors are exposed to various climatic fluctuations throughout their life – harsh winters, steamy summers – and especially to mechanical use, when the door is opened and closed. Materials without a clear origin tend to crack, break or otherwise make life unpleasant for their owners.
Carefully select proven companies

Be aware of the origin of materials

Low price often indicates low quality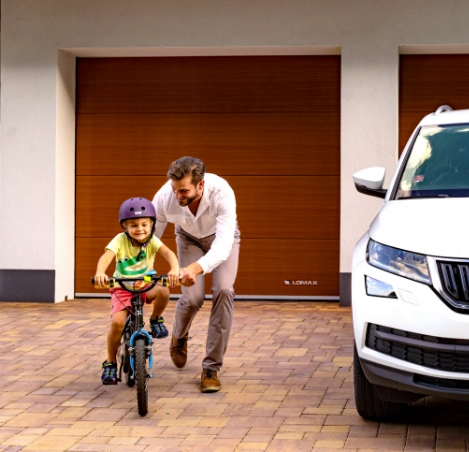 THE LIFETIME OF DOORS, OR, CALCULATE YOUR INVESTMENT
Garage doors are one of the larger investments in a home. However, the really high-quality ones will last for several decades. For example, LOMAX doors are rated for at least 20 thousand cycles, meaning full opening and closing. If the user used them twice a day, for example when leaving and arriving home, this would mean at least 25 years of operation. As a rule, however, with reasonable maintenance and regular service it can usually be much more.
Garage doors are an investment for at least 25 years

Be interested in the speed and availability of service

Read reviews and look for complaints about breakdowns – aren't there many?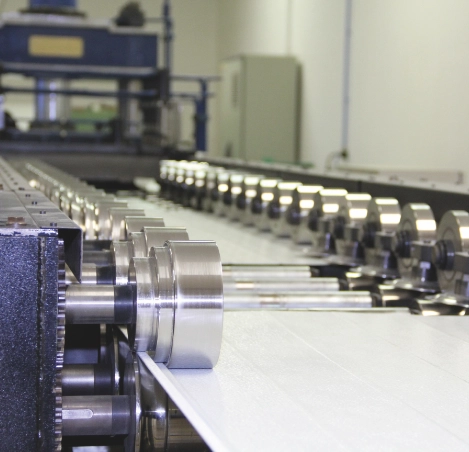 THE APPEARANCE WITHOUT CHANGE IS ENSURED BY PRESSED FOIL
Quality and durable structural elements are the basis of all doors. In the most popular sectional type, in addition to the rails, , for example, they are torsion springs. The individual sections are the key component that will show whether the door is really of good quality after a period of use. More precisely, specifically patterned foils.
Surface foils on doors can begin to peel off over time

Ageing of garage doors can be accelerated, for example, by orienting the garage to the south

Surface foils that is directly pressed into the panels lasts the longest
Some manufacturers try to save money and buy ready-made panels, which they then just cut during production. However, the foil on them is too thin and over time it can start to peel off. Weather conditions, such as the south-facing orientation of the garage, can also speed things up. And although the peeling does not directly affect the function of the door, it is not very attractive from a design point of view. So, if the user does not want to solve such problems, they should look for a manufacturer who presses the foils into the panels.
LOMAX TIP: We do not produce doors in series. Each piece is an original, to which the utmost care is given. And the same is true for the choice of materials. We use only the most modern methods of production. For example, we apply wood imitation to the material before the actual production of the panel. Only then we roll the shape of the section and fill the panel with PUR foam. Thanks to this technology, wood imitation is much more durable than just applying the foil to the finished sections.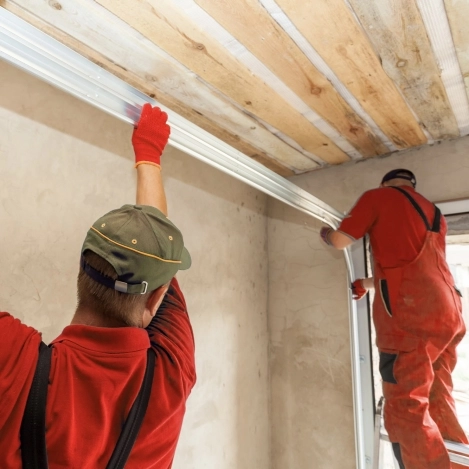 WARRANTY AND SERVICE ALSO TELL YOU ABOUT QUALITY
Quality garage doors can also be partly identified by the warranty offered by the manufacturer. If the doors meet the most stringent parameters in terms of durability, their manufacturers offer a warranty of at least 10 years.
The length of the warranty is one of the deciding factors when choosing a garage door

Find out how often you will need regular service and how much it will cost you

Find out about the availability of service and spare parts before buying a door
This is also the case with LOMAX garage doors. In terms of durability then, as with other parts of the house, regular service is a key. While some basic tasks can be handled by the user on their own, for others it is worth contacting the supplier directly. Therefore, in some cases, they also offer an extended warranty on some parts of the door during regular service.
Control options
Do you want to have as little work as possible with your garage door? In this case, it is ideal to choose remote controls and motorised drive. Or do you prefer manual opening? This is not a problem with selected types either – the door can be manipulated, for example, with a bar.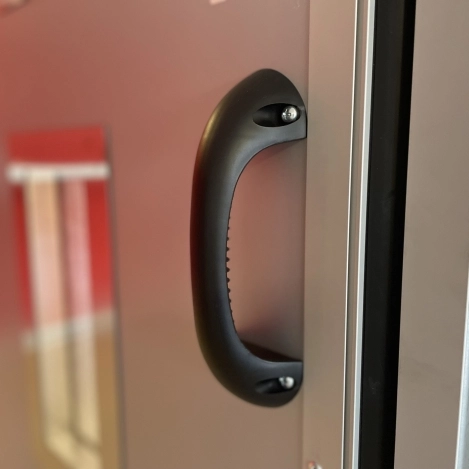 MANUAL CONTROL OF THE DOOR
Although manual control may not be among the most convenient, it has undeniable advantages.
Low price
Easy handling
Not affected by power failure
Discomfort compared to remote control
Cannot be controlled from anywhere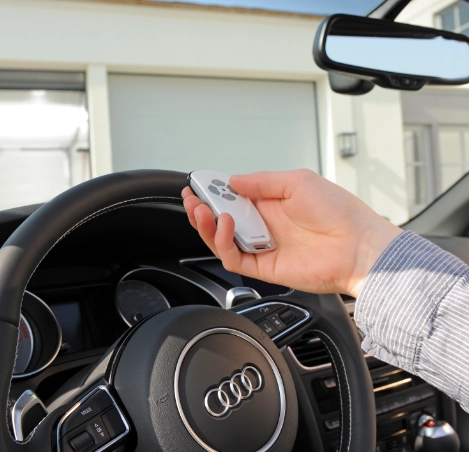 REMOTE CONTROLLER
For some people, it is an undeniable advantage to be able to open the garage door without getting out of the car. The remote controller brings just such a benefit.
The most common method
Convenient control
Risk of theft
Only works near the door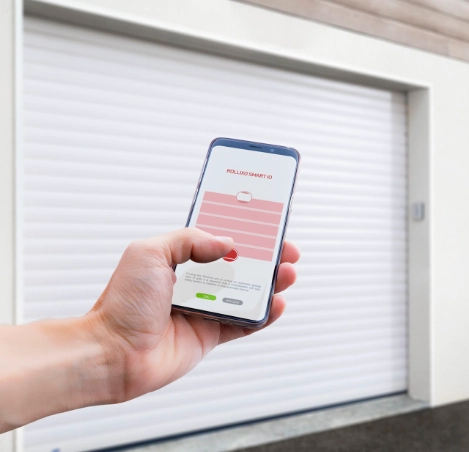 MOBILE PHONE
Nowadays, you can also control the door using various smart apps via mobile phone, remotely directly from the car, and monitor everything on the display as needed.
Possibility of control from anywhere
Convenient to use
Almost impossible to misuse if smartphone is stolen
Requires some digital literacy
Phone number at risk of theft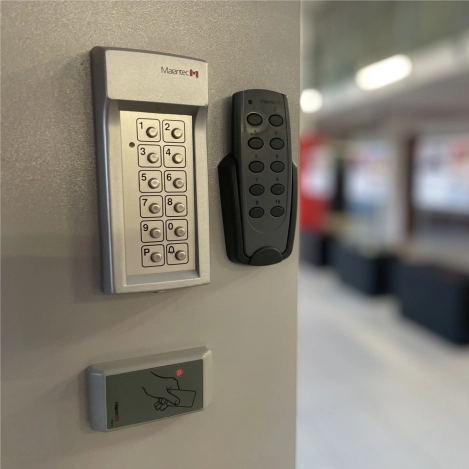 CHIP
The garage can also be opened by attaching a chip to the reader.
Convenient motorised control
Placing the chip on the keys
Risk of theft
To open, you must approach the reader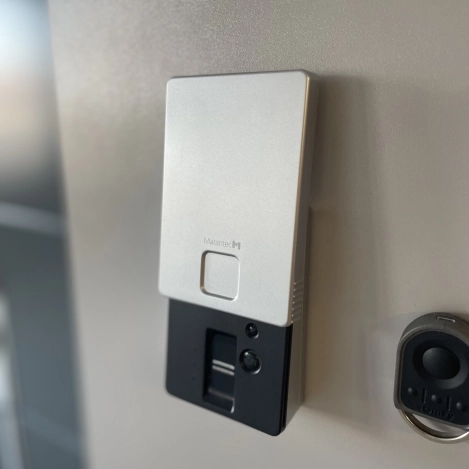 FINGERPRINTS
Just as we open our smart phone today, we can also open the garage with our fingerprint.
Convenient motorized control
The "controller" cannot be lost
Need to get close to the reader
More expensive option due to technology
Comfort, warmth and safety
Garage doors are an integral part of the house. In addition, it protects valuable assets. In addition to cars, we often keep motorbikes, e-bikes or expensive garden electronics in the garage. Therefore, you should take the same care when choosing a door as you would when choosing an entrance door, for example.
LOMAX EASY solution
Replacement of doors with minimal building modifications.
Inquire about your new garage door with no obligation.
Fill in the enquiry form. We'll get back to you within three days.