Industrial garage doors
Reliably protects your company's property

Continue
Industrial garage doors
We also have solutions for warehouses with non-stop operation
Warehouses, halls, car repair shops and dozens of other premises need garage doors that withstand demanding daily operation. That is why we put particular emphasis on reliability, safety and service lifetime in industrial garage doors. We therefore teamed up with one of the world's most important manufacturers of industrial applications, ALPHA DEUREN, which produces industrial sectional, rolling and high-speed garage doors for us.
Choose from a range of industrial garage door models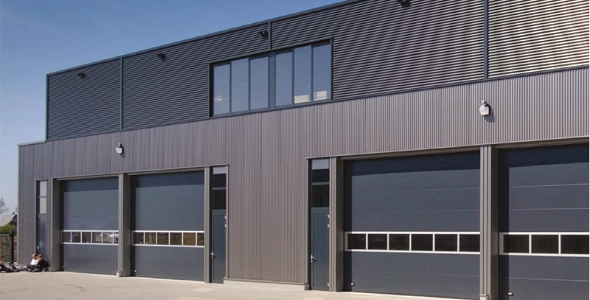 Industrial sectional doors
This is our most popular product. The door guarantees superior sealing and insulation properties, soundproofing and weather resistance. All this is achieved thanks to the micro-profiled steel-plate panels. Sectional doors have a wide range of applications also due to the possibility of installing different types of windows of different heights, widths and colours.
Více informací
Méně informací
All-glass sectional doors
The ideal option if you put emphasis on visibility and need high translucency while placing maximum emphasis on quality thermal and acoustic insulation. We offer different design options to fully adapt to your operational requirements.
Více informací
Méně informací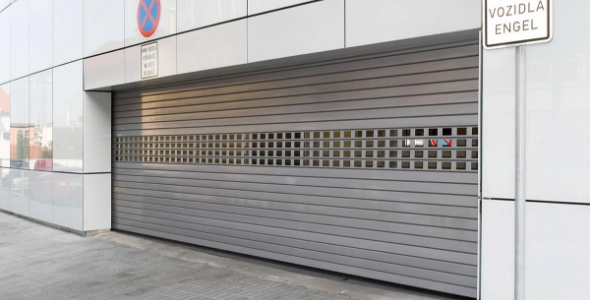 Rolling aluminium doors
Rolling doors are characterised by their low weight, two walls and thermal insulation. We offer them in several variants. Decorative notched slats in the shape of a micro profile, slightly rounded inside, guarantee pleasantly quiet running characteristics of the entire door. The slats in the standard version have a galvanised finish and a transparent protective lacquer. It is a reliable product that is widely used in industry.
Více informací
Méně informací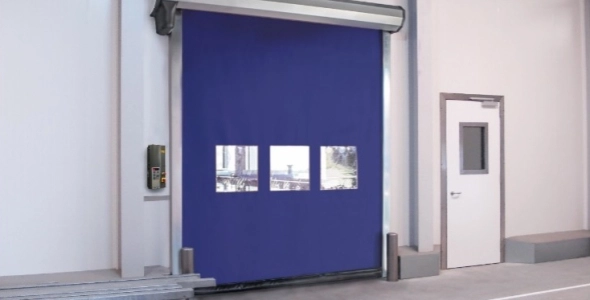 High-speed foil doors
High-speed doors are ideal for high-traffic areas and larger openings. This is because they guarantee long-term operation without malfunctions. They are also suitable for separating spaces with different temperatures, saving energy in public, industrial and commercial buildings. We offer both exterior and interior variants.
Více informací
Méně informací
High-speed sectional doors Helix
This type is up to 6 times faster than sectional doors. Thanks to this high speed, they cater to higher energy savings. With a revolutionary innovation, spiral winding, we achieved that the door does not need more space, so there is no abrasion and wear of the slats. This is particularly useful in operations with a high frequency of opening.
Více informací
Méně informací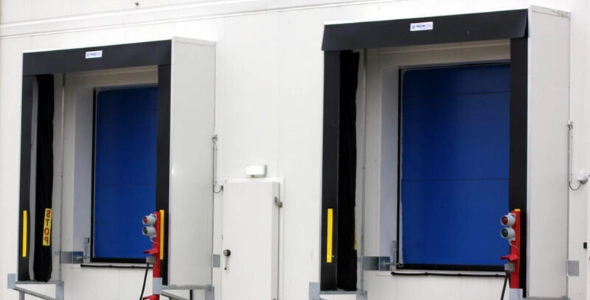 Loading technology
In addition to the doors themselves, we also offer accessories for warehouses and production facilities. These include sealing collars that protect employees and goods from the weather and save on energy costs. We also offer bumpers made of high-quality rubber, which are highly wear-resistant, or loading bridges to compensate for the difference between the loading ramp and the carriage area of the vehicle.
Více informací
Méně informací
Samples of implementation of industrial garage doors
References
We have already installed our industrial garage doors in dozens of companies in the Czech Republic and abroad. Here's a list of some satisfied customers who can't get enough of LOMAX doors.


Progress of the contract implementation
we will respond to your inquiry within three days
You call/write/send an inquiry. We will get back to you within 3 working days at the latest.
at a personal meeting, we will advise you on the choice
We will arrange an appointment either at your place or in our showroom. We will find out what your needs are and advise you on the choice.
We will measure and quote free of charge
We will select a suitable solution, do measurements and prepare a quotation. All free of charge and without obligation, of course.
we will produce and arrange the installation date
If you agree, we'll put the design into production and in about a month it's done. Then we'll just arrange a date to come and install the door.