Insect Screens
Effective solution for insect control
Stop flies, wasps, mosquitoes, and other insects (not just during the summer months) flying into your house and making your day and night unpleasant. The most effective way to protect yourself from uninvited guests is a window screen.
Continue
INSECT WINDOW SCREENS
High-quality screen stops insects immediately
Insect screens for windows are an economical, ecological and the most effective long-term solution to combat irritating insects in an apartment or house. The most effective way is to put an obstacle in the insect's path that it can't get past. Protective insect screens for windows or doors perform this function. With them, you no longer have to worry whether it's day, night, or the lights are on.
Insect screens must fulfil a practical function and, as with outdoor blinds or outdoor roller shutters, you need to consider where you are going to place them. Of course, you don't have to worry that they will spoil the look of your house. The frames are unobtrusive and easy to match with the windows or balcony doors. Some can be rolled up as needed so they are not visible at all.
Choose the screen type according to its location and your requirements
Fixed insect screens
They are fixed in the frame and are suitable for windows that you use for airing only. They are mounted on the window frame and can simply be removed in autumn.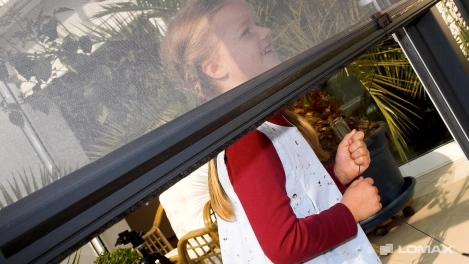 Integrated roller insect screens
Roller screens for windows are becoming increasingly popular because they are very practical. You can pull them down as needed and you don't have to take off the whole frame for the winter. You will particularly appreciate them where you often need free space to get through or for passing various things out of the window. At LOMAX, we integrate the roller screens into outdoor roller shutters and thanks to an independent control, you can air out or shade the interior at will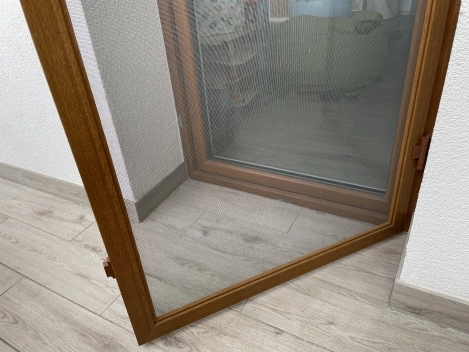 Hinge door screens
Are, like fixed window screens, in a frame structure which is mounted on the door frame using self-closing hinges. They are equipped with a magnetic stop, so they hold firmly in the closed position.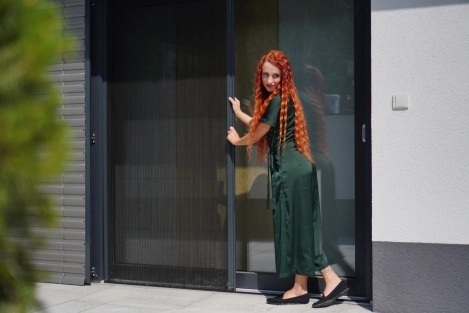 Pleated door screens
Complete your home with a screen that protects you from insects while also adding a modern look. The pleated door screen is a perfect solution for your conservatory, terrace, or French windows. As well as for barrier-free access.
Convenient control is ensured by the U-shaped guide profiles and their great advantage is the possibility of locking with a magnet and closing large glazed areas. Which type to choose?
The durability of our screens is based on high-quality fibreglass coated with PVC. It can withstand harsh weather, high temperatures, and you don't have to worry about tears. We use modern dark mesh in the window screen production. If the standard colours aren't what you want, we will be happy to paint the screen frame to match the colour of the front door or windows. You can also choose an appropriate installation method – would you prefer screws or firm Velcro?
Pleated screen – standard
An economical variant of the pleated screen.
The smallest passage width limitation.
The screen can be removed when the frame sections are dismantled.
Maximum screen dimensions: width 2,500 mm and height 2,580 mm.
Pleated screen – double centre profile
Compared to the "standard" variant, there is a second centre section.
Standard passage width limitation.
The screen can be removed without dismantling the frame sections.
Maximum screen dimensions: width 2,500 mm and height 2,580 mm.
 Pleated screen – double screen "curtain"
Screen with up to twice the maximum width.
Larger passage width limitation.
The screen can be removed without dismantling the frame sections.
Maximum screen dimensions: width 5,000 mm and height 2,580 mm.
Progress of the contract implementation
WE WILL RESPOND TO YOUR INQUIRY WITHIN THREE DAYS
You call/write/send an inquiry. We will get back to you within 3 working days at the latest.
AT A PERSONAL MEETING, WE WILL ADVISE YOU ON THE CHOICE
We will arrange an appointment either at your place or in our showroom. We will find out what your needs are and advise you on the choice.
WE WILL MEASURE AND QUOTE FREE OF CHARGE
We will select a suitable solution, do measurements and prepare a quotation. All free of charge and without obligation, of course.
WE WILL PRODUCE AND ARRANGE THE INSTALLATION DATE
If you agree, we'll put the design into production and in about a month it's done. Then we'll just arrange a date to come and install the door.
Do you want Insect Screens LOMAX?
Fill in the enquiry form. We'll get back to you within three days.